Whether you own a small outlet or a large chain, Wifi-soft has a solution for YOU!
Explore our range of top-notch network controllers, access points and PoE Switches to help you generate higher revenue through WiFi Monetisation.
Shopping malls, retail outlets and chain stores are looking for avenues to attract customers and increase the footfall in their venues. Nowadays, businesses are offering free and unlimited WiFi to attract buyers to their stores. Instead of charging the customer for WiFi access, they are using WiFi technology to advertise and promote their products and services. They are also interested in understanding the consumer behavior and demographics to customize their marketing and promotion campaign to targeted customers.
Wifi-soft offers a complete product line to cater to the needs of the retail market. We offer cloud-managed access points which can be easily deployed in retail stores and shopping areas. These access points are fully managed and monitored from the central console so setup, configuration changes and firmware updates can be easily applied from the central console.
Wifi-soft cloud platform also offers a host of services to monetize the networks through portal advertisements, push notifications, customer surveys, user profiling and marketing tools. The cloud platform also provides powerful analytical and reporting tools so store operators can understand their consumer behavior and predict their buying patterns in the future.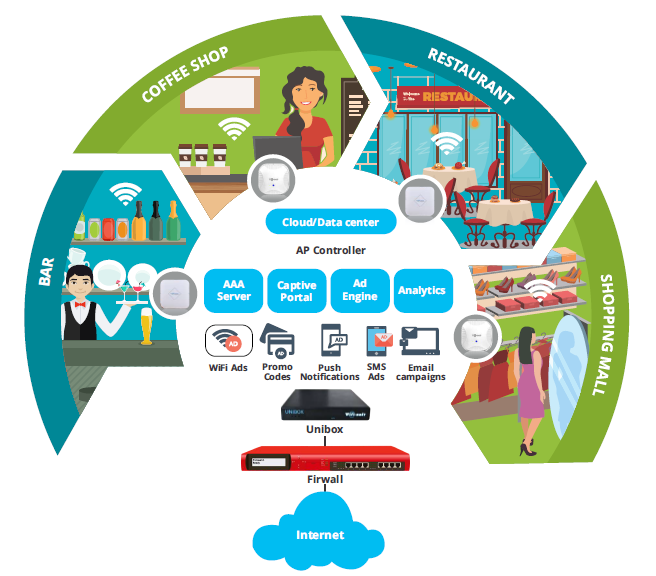 SALIENT FEATURES

Enterprise Access Points
Enterprise-grade access points for wide coverage and reliable connectivity

Central Management
Manage and monitor remote hotspots in a single console

Branded Captive Portals
Fully branded and customized captive portals for rich user experience

Push Notifications
Push ads, promotion & discount offers using push notifications

Customer Surveys
Get customer feedback through online surveys

Portal Advertisements
Display banner and video ads on the portal pages

SMS/Email Marketing
Promote products and services through SMS and email marketing

Social Media Integration
Seamless integration with social media and promotions for analyzing user behavio
WIFISOFT OFFERS
High-performance Access Points
High-performance Access Points
Wall, Ceiling or Outdoor Mounting
PoE Enabled
High Power for Greater Coverage
Mesh Capable
Cloud or Controller Managed
Plug-n-play Setup
Single Console Management
Cloud Managed Hotspots
Single Console Administration
Highly Reliable & Scalable AAA
Multi-vendor Support
Custom Captive Portals
Prepaid Vouchers
Venue Dashboard
User Analytics and Reports
Proximity Marketing
Location-based Ads
Wifi-Soft is a Hardware and Software Solutions Provider for the Hotspot and Wireless ISP Industry. We Provide Carrier-Class Operational Support System (OSS) for Managing Wireless Networks and Hotspot Systems.
Contact Us