Wifi-soft offers fully integrated public WiFi solution for enabling digitization of smart cities and large public venues
In the age of digital economy, cities around the world are competing with each other to build a competitive edge and promote themselves for investments and business. Cities are becoming "smarter" by installing digital infrastructure, eco-friendly technologies and optimizing existing resources. City-wide WiFi is leading the way for smarter cities and providing the backbone for digitizing the city infrastructure.
Wifi-soft offers a complete, integrated solution for building citywide WiFi infrastructure. Our solution includes high-power, rugged access points, cloud controller and a carrier-class OSS/BSS/NMS software for operating and managing the WiFi infrastructure. The solution is designed to scale to thousands of access points and serve millions of users on a daily basis. Our OSS/BSS solution is designed to work in multi-vendor environment thus providing unmatched flexibility and seamless user experience to smart city networks.
Wifi-soft also offers a wide range of options to monetize the WiFi networks through online billing, advertisements, targeted marketing and push notifications. The network also provides connectivity to enable various government programs and employment schemes to the users.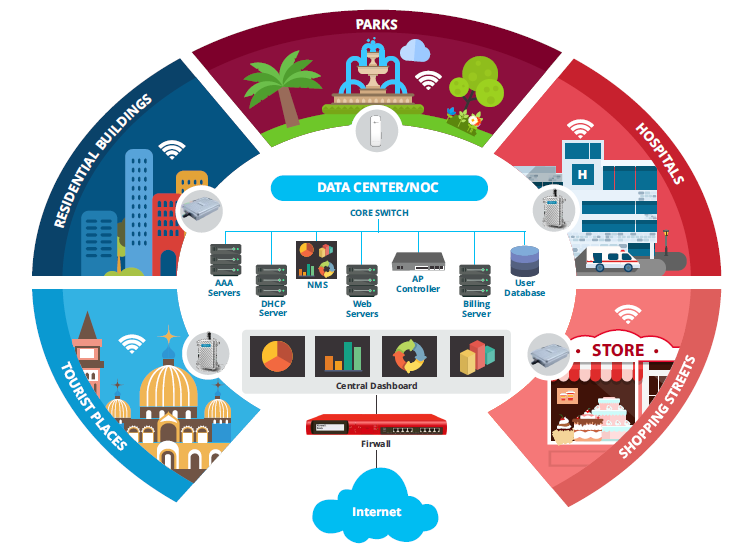 SALIENT FEATURES

Outdoor Access Points
Rugged, long-range access points for wider connectivity

Central AP Controller
Central, integrated, highly scalable hotspot controller

Branded Captive Portals
Fully branded and customized captive portals for rich user experience

Monetization Platform
Full featured billing and monetization platform for public WiFi

Bandwidth & Policy Mgmt
Control bandwidth utilization and enforce fair usage and access policies

DHCP Server
Full featured, high grade DHCP server for distributed WiFi network

Powerful Dashboard
View NMS data, usage graphs and reports on vital statistics of each hotspot

Advertisement Platform
Complete advertisement and marketing platform for WiFi hotspots
WIFISOFT OFFERS
High-performance Access Points
High-performance Access Points
Wall, Ceiling or Outdoor Mounting
PoE Enabled
High Power for Greater Coverage
Mesh Capable
Cloud or Controller Managed
Plug-n-play Setup
Single Console Management
AP Controller
Central Hosting
Plug-n-play Setup
Controllerless AP Management
Full-feature NMS
Single Console Administration
Auto Firmware Update
User Presence
Mesh Enabled Network
Central Monitoring & Reporting
Carrier-grade OSS/BSS
Highly Scalable, Reliable AAA
Multi-vendor Support
Branded Captive Portals
Policy Manager
High-grade DHCP Server
Hotspot Monetization Platform
Policy Management
Powerful NMS
Advertisement Platform
Hotspot 2.0
Rich Reporting and Analytics
Wifi-Soft is a Hardware and Software Solutions Provider for the Hotspot and Wireless ISP Industry. We Provide Carrier-Class Operational Support System (OSS) for Managing Wireless Networks and Hotspot Systems.
Contact Us