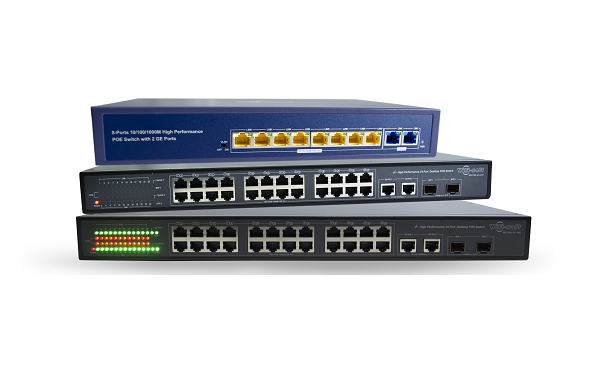 Large wireless networks need reliable and high-performance switches to ensure that the customers get a good wireless experience. Power over Ethernet aka PoE is the default technology of powering the access points, IP cameras and other network elements.
Wifisoft provides a Trinity series unmanaged PoE Switches to help network administrators deploy high performance complex wireless networks. PoE switches allow administrators to power the remote access points, IP camera, IP phone from central place while delivering energy saving and ease of management. Trinity switches support latest 802.3af/at standards that provide self-adaptive and high power on each port. Each port delivers Gigabit speed allowing high throughput for each connected appliance. The switches can be easily stacked using 2 SFP ports for uplink.
All switches come with built-in, reliable power supply that delivers up to 25W power for each port and are housed a sturdy metal jacket for easy heat dissipation.