Wifi-soft offers a complete guest WiFi solution which includes access points, controllers, PoE switches and cloud-managed software.
Network administrators in enterprises are having to deal with highly mobile and agile workforce. Additionally, wide adoption of personal mobile devices at the workplace is a major concern for most IT departments. Moreover, enterprises need to offer managed WiFi access to guests without compromising the security of the existing corporate network. Lastly, enterprises are looking for a cost-effective and reliable branch networking solutions to integrate their distributed office network.
Wifi-soft introduces secure, affordable and reliable enterprise WiFi solutions that enable IT administrators to effectively and efficiently manage their corporate networks. We offer both controller and cloud managed enterprise WiFi solutions. Controller managed solution offers more control and local management while the cloud solution provides unmatched scalability, flexibility and cost advantage for the enterprises. Both solutions come with our enterprise-grade, reliable access points, AP controller and WiFi management software. We also offer a cost-effective branch networking solution that provides a safe and secure tunnel from remote offices to the main corporate network.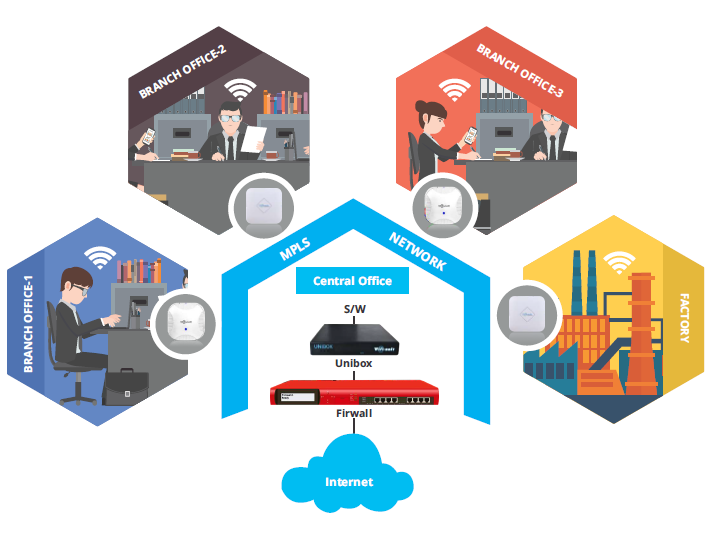 SALIENT FEATURES

Enterprise Access Points
Enterprise-grade access points for wide coverage and reliable connectivity

AP Controller
Appliance or Cloud based controller for managing AP and wireless network

Moble Device Management
Manage access for all end user devices and track usage

LDAP/AD Integration
Verify network access via your LDAP/AD directories

Bandwidth & Policy Mgmt
Control bandwidth utilization and enforce fair usage and access policies

Web Filtering & Logging
Filter unwanted websites and log all user browsing activity

Powerful Dashboard
View detailed graphs and reports on vital statistics of each hotspot

Guest Access / Captive Portal
Enforce captive portal and login policies for guests
WIFISOFT OFFERS
High-performance Access Points
High-performance Access Points
Wall, Ceiling or Outdoor Mounting
PoE Enabled
High Power for Greater Coverage
Mesh Capable
Cloud or Controller Managed
Plug-n-play Setup
Single Console Management
Access Controllers
Unified Network Managemet
User & Group Management
Guest Access
AP Management
URL Filtering & Logging
Branded Captive Portals
Mobile Device Management
Bandwidth Control & Access Policies
LDAP/AD Integration
Multi-WAN/Load Balancing
Wifi-Soft is a Hardware and Software Solutions Provider for the Hotspot and Wireless ISP Industry. We Provide Carrier-Class Operational Support System (OSS) for Managing Wireless Networks and Hotspot Systems.
Contact Us