Wifi-soft offers an array of Internet access and entertainment solutions for buses, trains, cruises and transport venues.
Internet users have started expecting WiFi connectivity while they are on the road. Venues like airports, train/metro stations, bus terminals and marina are already offering guest Internet access. Customers are now expecting Internet connectivity while they are mobile so bus operators, metros, taxi services have started offering Internet service to the commuters. With the advent of 4G services, it has become possible to provide good WiFi Internet access in the cellular coverage area. Several companies are also offering entertainment on demand using WiFi technology.
Wifi-soft brings together its years of experience to provide a reliable Internet and entertainment solution for the transportation industry. We offer complete WiFi hotspot solution including access points, controllers and cloud software for managing WiFi services in airports, bus/train stations and marinas. We have also introduced a mobile hotspot router that uses 4G backbone from the local cellular operators and creates a full-featured WiFi hotspot. This solution is now deployed in passenger and private vehicles. All the services can be easily managed from central cloud controller and management software.
Our FundoTV entertainment platform can be also packaged with the mobile router to provide an array of entertainment services to the travelers. These include latest blockbusters, TV shows, music videos, Kid content and more. The entertainment content can be easily managed using a web application so the operators can easily upload new content and provide a rich experience to the end users.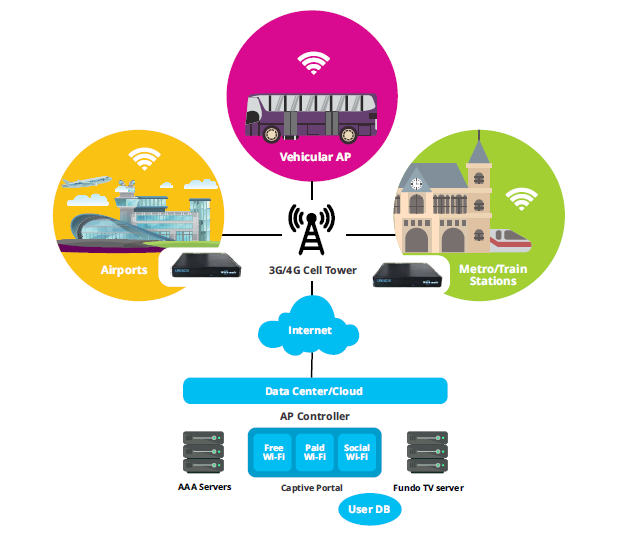 SALIENT FEATURES

Enterprise Access Points
Enterprise-grade access points for wide coverage and reliable connectivity

Hotspot Controller
Unified hotspot controller for managing guest login and hotel WiFi network

Branded Captive Portals
Fully branded and customized captive portals for rich user experience

PMS Integration
Integration with widely used PMS systems like Opera, IDS-Fortune, WinHMS and more

Bandwidth & Policy Mgmt
Control bandwidth utilization and enforce fair usage and access policies

Prepaid Vouchers
Provide custom vouchers to guest to control access and bandwidth consumption

Powerful Dashboard
View detailed graphs and reports on vital statistics of each hotspot

Social Media and Adsion
Seamless integration with social media and promotions for analyzing user behavior
WIFISOFT OFFERS
High-performance Access Points
High-performance Access Points
Wall, Ceiling or Outdoor Mounting
PoE Enabled
High Power for Greater Coverage
Mesh Capable
Cloud or Controller Managed
Plug-n-play Setup
Single Console Management
Hotspot Controllers
Unified Hotspot Management
Multi-vendor AP support
AP Management
Branded Captive Portals
Hotspot Billing
Bandwidth & Policy Management
PMS Integration
Receipt Printer
Multi-WAN/Load Balancing
Social Media Integration
Cloud Managed Hotspots
Single Console Administration
Highly Reliable & Scalable AAA
Multi-vendor Support
Custom Captive Portals
Prepaid Vouchers
Venue Dashboard
User Analytics and Reports
Proximity Marketing
Location-based Ads
Wifi-Soft is a Hardware and Software Solutions Provider for the Hotspot and Wireless ISP Industry. We Provide Carrier-Class Operational Support System (OSS) for Managing Wireless Networks and Hotspot Systems.
Contact Us